Significant and relevant experience allows the attorneys at Saltz Nalibotsky to provide a strategic and comprehensive approach to litigation and legal problem solving. We are a highly credentialed, richly diverse team with unique talents, interests, and compelling personal histories. Yet, we share a singular, common goal of delivering creative and strategic solutions that result in the best possible outcome for our clients.
Our lawyers are uniquely specialized, but in combination, we provide a dynamic, multidiciplinary approach to litigation and business counseling. We listen. We investigate. We analyze, strategize, and plan. We will not squander time and resources fighting unnecessary battles. We attempt swift resolution through amicable means to the satisfaction of our clients, then we will advance into the courtroom prepared.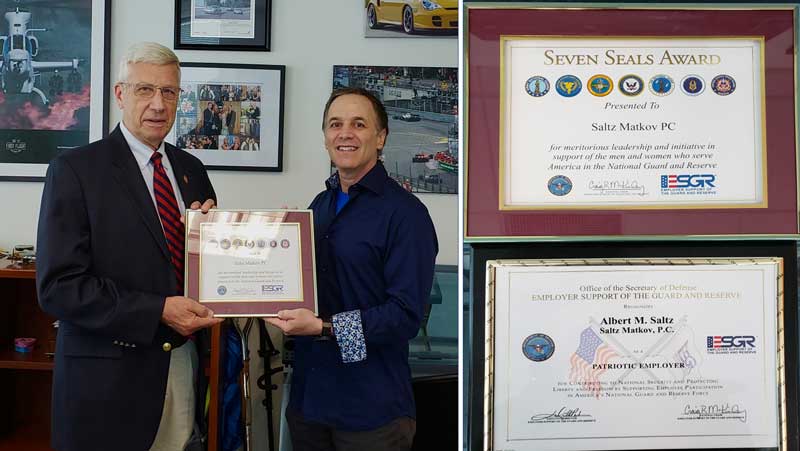 Firm Awaeded as a Patriotic Employer
Major General Wesley Craig visited the Salz Nalibotsky office to present Al Saltz with a "Seven Seals Award" for the firms support of the Guard and Reserve. Peter Galick, former employee and now an attorney for the US Army, nominated Al for the award as he held his job for over a year while Peter was on active duty.
The firm has also received recognition from the Secretary of the Department of Defense for being a Patriotic Employer.